Another week down!! It is just so amazing to me just how fast time flies! My doctor appointment went good on Wednesday:-) Except for the fact I gained 5 lbs!! I'm still in normal range but I feel I gain everytime I go back and that's got to stop!! My belly button is really poking out this week! You can see it good through shirts and when I stand sideways ha. We get a 4D in 2 weeks!! They do 4d's with twins a little but earlier because it's hard to see all parts of them as they grow and run out of room. I can't wait to see them:-)
Babies development this week:
The network of nerves in your baby's ears is better developed and more sensitive than before. He or she may now be able to hear both your voice and your partner's as you chat with each other.
Your baby is inhaling and exhaling small amounts of amniotic fluid. These so-called breathing movements are essential for the development of the lungs. These are also good practice for when your baby is born and takes that first gulp of air.
Your baby is continuing to put on fat. He or she now weighs about 1 2/3 pounds and measures 14 inches (an English hothouse cucumber) from head to heel. If you're having a boy, his testicles are beginning to descend into his scrotum – a trip that will take about two to three days.
Heres a couple belly pics:
You see my belly button?? Ha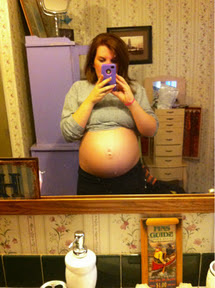 No stretch marks... Yet. Oh yea and I went dark! I colored my hair yesterday and love it! I always try to go dark in the fall and blonde for spring/summer.
Today is my birthday! Yay! I wasn't really excited about my birthday this year because I'm ready for the twins to be here so I can start planning and celebrating theirs!!
ROLL TIDE!
Posted using BlogPress from my iPhone