We didn't do much of anything this weekend because my back has been hurting me so bad! My hubby worked 17 long hours on Friday so he didn't get home until late!! I spent the day Friday getting ready to sell at a yard sale on Saturday! I am proud to say that we sold most of our junk! If I didn't sell it I gave it to Hannah Home!
Haha we had a ton of stuff!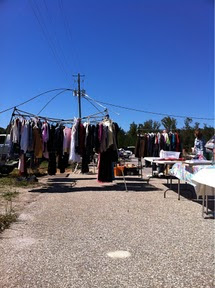 We had it right off the HWY to attract more people!
After the yard sale I went home and took a nap! Preggers was very tired:-( After my nap I woke up to auburn and south Carolina playing! Gotta say that was an awful game! Even the refs didn't know what they were doing?? But congrats to the auburn tigers who pulled it off!
Then it was Bama's turn!! We played in the swamp this year and took home an awesome victory! ROLL TIDE!!
It was cool this weekend so I brought out the houndstooth scarf!
I think my face is starting to round out and gain a little weight! I saw this pic and cried but as long as the babies are getting fat I'm good and I'll take care of mine after they are here! Ha!
I have a great giveaway tonight!! Need any hand made onesies??